Leather Cleaning and Conditioning.
What is the best way of cleaning my Leather Lounge and Upholstery?
Ace Chemdry can help you out here also with a specifically designed range of Cleansers and Moisturisers designed for Non-Living Skin or Leather.
Ace Chemdry will clean the foreign debris from the Leather with a Gentle but Thorough Cleanser then an application of Moisturiser is then applied to replace the moisture lost in general usage of the furniture. All Leather Cleaning and Moisturising is done by land so as not to Burn or Bruise the Leather. It would be like using a car polisher on your skin, not so great. This way we are as gentle with the Leather as we would need to be with Living skin.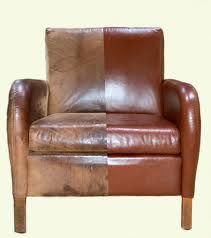 Routine cleaning of the Leather by Ace Chemdy will mean that your Leather Lounges will last years longer than you may have expected and save you hundreds of dollars over the life of the lounge.
Our Leather customers are delighted with the results that Ace Chemdry is able to achieve with their Leather claiming.
Some even say their furniture looks just like it did the day it arrived. And is left with the supple Leather feel again.
For any more information give Tony & Cheryl a call.